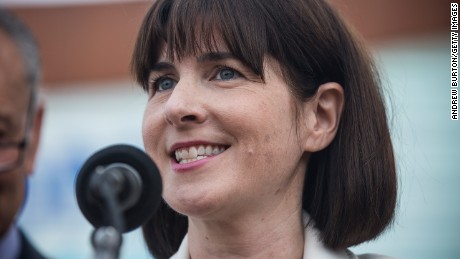 (CNN)The CEO of the Democratic National Committee and two other high-level staffers left the organization on Tuesday in the wake of the committee's hacked email controversy.
Amy Dacey is the highest-ranking official at the DNC to step aside due to the matter, a senior Democratic official said. The DNC also announced the departure of CFO Brad Marshall and and Communications Director Luis Miranda in a press release Tuesday afternoon.
Dacey is well-respected by Hillary Clinton's campaign and the DNC circle, a source familiar with the resignation said. But the committee is looking to clean house in the wake of leaked emails that appeared to show the committee favoring Clinton over Bernie Sanders during the primary.
Interim Chairwoman Donna Brazile, who stepped in after the resignation of former Chairwoman Debbie Wasserman Schultz, also announced some additions to her team, saying former Howard Dean aide Tom McMahon would lead a transition team focused on November's election. The chief of staff that joined the DNC in June, Brandon Davis, will retain his post and oversee general election efforts, Brazile announced. Also joining as an interim senior adviser is Doug Thornell.
Wasserman Schultz resigned after the party's convention last week as a result of the revelations, and Brazile has stepped in as interim chair through the election.
The changes at the DNC come as the Clinton campaign is moving to take greater control of party headquarters in Washington and in states across the country.
Democrats are also trying to get ahead of the disclosure of more emails and internal documents from hacked computer systems, fearful of more embarrassing revelations.
The press release made no mention of the controversy, focusing instead on gearing up for the November election.
The controversy began late last month when nearly 20,000 internal emails, released by WikiLeaks, were dumped on the Internet.
The emails between a handful of DNC officials revealed conversations about Sanders' campaign, including one official suggesting he should be questioned about his faith to hurt him in key Southern states.
The emails are believed to have been released by Russian operatives after the DNC was hacked earlier this year. The US has not made an official assessment of responsibility, but has acknowledged that experts agree the hack was committed by hackers working for the Russian military and intelligence.
Though the DNC and Democrats have focused on the implications of suspected Russian meddling in the US election, the emails have cast the organization in a negative light.
"If, in fact, Russia engaged in this activity, it's just one on a long list of issues that me and Mr. (Vladimir) Putin talk about," Obama said. "I don't think that it wildly swings what is a tough, difficult relationship that we have with Russia right now."