Crowds gather in major cities to protest against corruption in largest anti-government demonstrations for five years, with over a hundred detained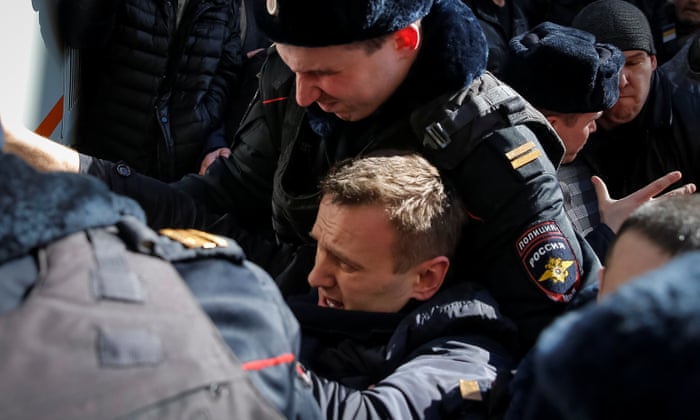 Police detained over a hundred people in Moscow and dozens in other Russian cities, as some of the biggest protests against the Kremlin in several years were held across the country on Sunday.
Alexei Navalny, the Russian opposition leader and anti-corruption campaigner who had called for the protests, was detained in central Moscow.
He was bundled into a police bus, which was unable to drive away for several minutes as crowds set upon it and tried to free him. There were also isolated incidents of protesters clashing with riot police and shouting "Shame!" and "Russia will be free!"
The protests gathered crowds of hundreds or thousands in most big Russian cities, from the far east port of Vladivostok to the European heartland. Police in Moscow estimated that around 7,000 people attended though the real number may have been much higher. The crowds surged down the length of the capital's main thoroughfare, Tverskaya. Around 130 people were reported to have been detained by police in Moscow alone.
More video from the clashes around the bus with arrested protest leader @navalny inside from an hour or so ago. pic.twitter.com/k3lwh5nCJN

— Shaun Walker (@shaunwalker7) March 26, 2017
The protests appeared to be one of the largest coordinated outpourings of political resentment in Russia since the massive 2011–13 demonstrations that followed a fraud-tainted parliamentary election.
The protests on Sunday focused on reports by Navalny's Anti-Corruption Foundation claiming that the prime minister, Dmitry Medvedev, had amassed a collection of mansions, yachts and vineyards. The alleged luxuries include a house for raising ducks, so many placards in Sunday's protests showed mocking images of yellow duck toys.
Navalny later posted on Twitter: "Hi, everything is fine with me. I'm at the police station and we're talking about the [Medvedev] film with the police. Keep up your peaceful walk, the weather is good."
In Vladivostok, police forcefully detained some demonstrators near the city's railway terminal, in one case falling down a small grassy slope as they wrestled with a detainee.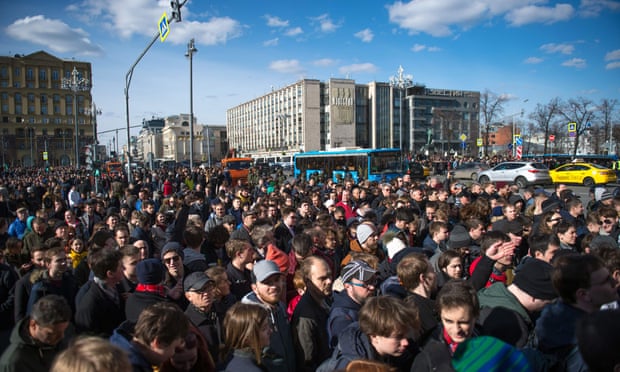 News reports and social media reported demonstrations in large cities throughout the country including Novosibirsk, Tomsk and Krasnoyarsk. At least 25 people were reported arrested in Vladivostok and 12 in Khabarovsk.
Some demonstrators showed up with their faces painted green, a reference to a recent attack on Navalny when an assailant threw a green antiseptic liquid on to his face.