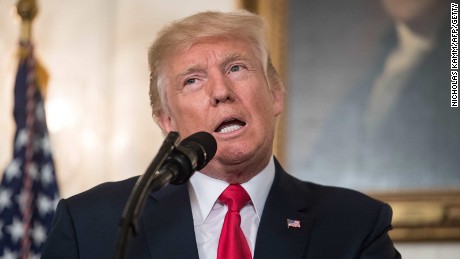 Washington (CNN)The day after racially charged violence gripped Charlottesville, Virginia, President Donald Trump's re-election campaign released an ad attacking his "enemies" for obstructing his agenda.
The ad slammed Democrats, the media and career politicians for what it said were attacks on and obstruction of Trump's efforts while touting the President's record so far of overseeing low levels of unemployment, record-high stock prices and what the ad called "the strongest military in decades."
"The President's enemies don't want him to succeed, but Americans are saying, 'Let President Trump do his job,'" the ad said.
The Trump campaign did not respond Sunday to requests for more details on the ad, including when and where it will run and how much it cost.
Trump took office following years of decreasing unemployment rates, and those numbers have continued to improve during his time in office. The US economy
added
more than one million jobs since Trump was elected. The stock market has reached record heights by some measures as well, continuing
a trend
since recovering from the Great Recession, with a
strong increase
since the November election.
The release of the Trump campaign's new ad comes as the President continues to receive criticism for his statements Saturday in response to the violence that wracked Charlottesville over the weekend.
White nationalists gathered in Charlottesville and clashed with counterprotesters Saturday, violence that culminated in a man
driving a car
into a crowd, killing a woman and injuring 19 others. Two Virginia state troopers died the same day in a helicopter crash while assisting the city's response to the violence.
Trump gave
a statement
Saturday condemning the violence and bigotry "on many sides" and touted his own record, including low levels of unemployment and announcements by companies such as Foxconn, an electronic components manufacturer headquartered in Taiwan, which plans to increase production in the US.